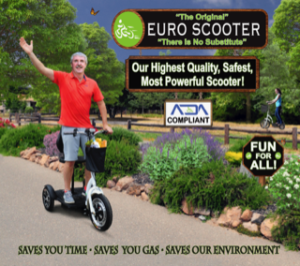 EUROSCOOTER ($5,999 Reg) WEB PRICE $4,500 CALL TO ORDER 256-531-7264
A unique and sporty look that accommodates those not quite ready for an old time wheelchair. The benefits of owning a Euro Scooter are undeniable. You deserve your freedom to come and go on your own time and pace. Not to mention, what better way to save money? Gas prices are outrageous, but not with the Euro Scooter! In fact, it will cost you just pennies a day to run your Euro Scooter. Don't wait! Order today! Call 256-531-7264
The Euro Scooter is fast, fun, and eco-friendly! The Euro Scooter reaches speeds up to 22 MPH, making it the ultimate get around for friends and family. The collapsible handlebar makes it a cinch to store or transport groceries and other items. The Euro Scooter combines fun riding, easy operation, and fantastic durability all in one package!
Purchase includes:
SCOOTER WITH ADJUSTABLE SEAT
FRONT BASKET AND LED HEADLIGHTS AND USB PORT
HORN AND HAND BREAK WITH A BATTERY INDICATOR
TWO KEYS, TOOL KIT, AND HOME CHARGER (115 VOLTS)
Specifications:
22 MPH MAX SPEED
36 MILES PER CHARGE
1000 WATT 48 V MOTOR FRONT WHEEL GENOA AND ROMA MODELS
1000 WATT COMBINED REAR MOTORS – GENOA MODEL
SEALED LED ACID BATTERY
PNEUMATIC TIRES
300 LB MAX WEIGHT (Gen3)
SPEED SETTINGS: HIGH, LOW, REVERSE
MAX RECOMMENDED WEIGHT: 300 LBS
ADA COMPLIANT
Make sure tires are always inflated to the max pressure shown in the front and back Tire
Check before use all bolts and nuts and screws are tight and adjust if needed.
SITS EYE LEVEL TO SEE AND INTERACT WITH OTHERS
MINIMAL ASSEMBLY: CLICKS TOGETHER IN 20 MINUTES!

1 YEAR WARRANTY ON THE BATTERY
TMKE LLC is a proud dealer of EuroScooter. A product of EuroShine.
To qualify for Mariner Finance in Mississippi
CLICK HERE